To add a new inventory item simply go to inventory in your menu and click the blue "Stock In / Out" button.
There are multiple ways to add an inventory item: from your Inventory screen, from your Transactions screen, and even from your Oze Shop screen.
Adding inventory from your Inventory screen
Go to your menu (☰) in the top left corner and click Inventory.
Click the blue Stock In / Out button at the bottom of your screen.
Under More actions, select either the green plus to add a new sales item/service or the red minus to add a new expense item/service.
Select whether you're adding a physical item or a service.

Physical items are things you sell like phones or milo.
Services are an activity you do for a customer like catering or consulting.
Adding inventory from your transaction screen
In some instances, a sale you recorded on your transaction screen shows up as an incomplete inventory
item. What this means is that you have sold an item that is not accounted for in your inventory stock.
Go to your menu (☰) in the top left corner
Click on Inventory.
You will see a yellow caution bar telling you you have "incomplete items"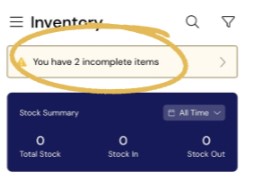 In order to successfully mark a sales item as "complete" in inventory please go through this flow below: